on December 11th, 2017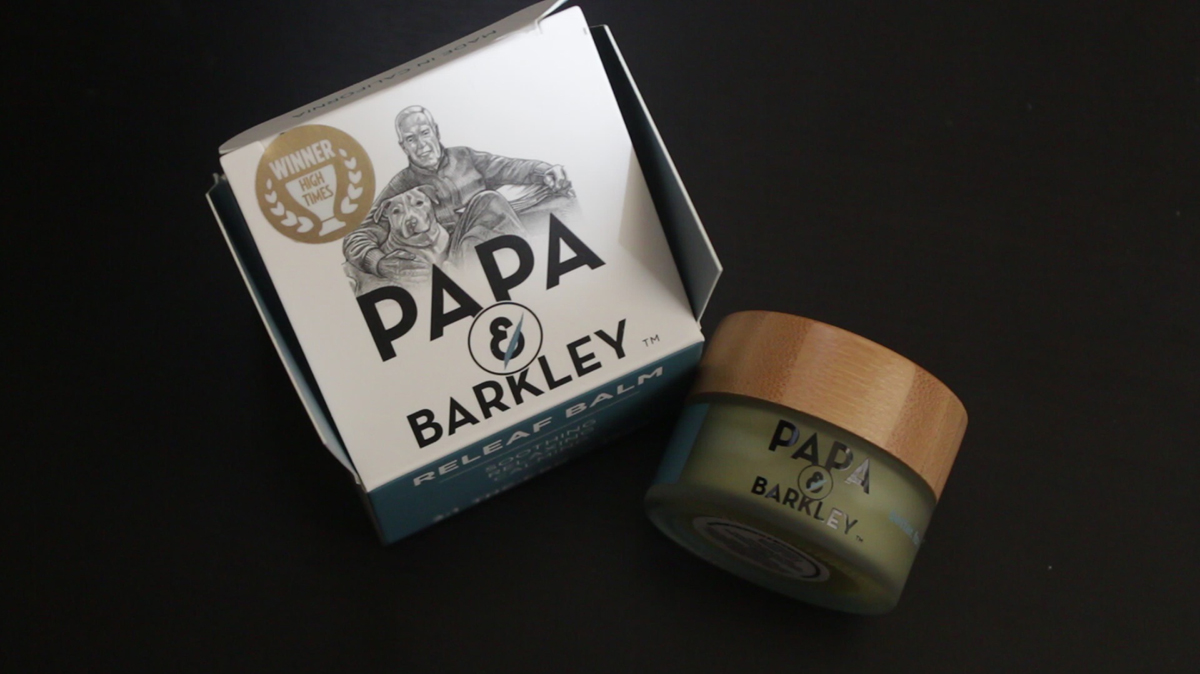 Cannabis topicals is a very wide and broad category. It can be really confusing seeing so many claims and similar ingredients that finding the right product for you can be a challenge.
With this Sample Size we received I was incredibly surprised by the delivery of this product. I have been recommending it nonstop to others, even sharing it with a fellow livestreamer with stiff hands from video game streams all day.
The Proof is Partially in the Packaging
The packaging is definitely the stand out factor to this product. Right away the cremes are already prepackaged in a box with a smooth soft-touch finish. It has an adorable illustration honoring their founder's father & his companion who inspired the product out of necessity. It was this pain relief solution that helped his father improve his life & wellbeing.
Inside the white & blue box is a frosted acrylic jar with the signature P&B laser etched on top of their unique wooden tops. The attention to detail is clear. Even with their sample size they are passing out miniature versions of the iconic jar. Their packaging exceeds any other topicals we have received.
Even at the quality of the packaging and product, their price point has been fair where I have located them in dispensaries. Their price point is not foreign to an individual buying products from Sephora, Kiehl's or Cedra. You are paying for quality assurance.
THC & CBD infused
The creme is low dose even as a topical infused with THC. These do not get you stereotypically high. This balm would be adequate for a first time patient or casual user, not leading to any debilitation. Definitely looking to be a safer alternative to pain balms heavy in menthol and other weird ingredients like chili pepper that are popular on the market with a cleaner natural and scientifically backed product. I'm a fan of science.
Varied Solutions
I enjoyed my experience with the sample of Papa & Barkley Relief Balm. It is incredible what they provide for patients. Papa & Barkley have often worked in partnership with Bud & Bloom Club (one of our nearby home dispensaries in Santa Ana) to provide complimentary massage & cannabis education services for the elderly population of Orange County.
As for my old artist hands- stiffness, lots of tight tendons from hard grips and measured pencil strokes. When using the creme, the oil left my fingers greasy but allowed the creme to penetrate and soak in while I worked. I would rub with a single finger the topical and wipe clean with a cloth the tips of my fingers to allow me to type. Unfortunately not good for those with copper glovers or wrist guards. I was not interested in getting those damp with the balm. Other drier cremes leave less residue that won't soak into gloves or guards. It was definitely a commitment applying this balm.
For my back I encountered similar results and issues. The balm did great for my back. I worked with a partner to rub the creme against my shoulder blade (guilty of slouching) while heating it with their hands & motion. The oil rubbed into their hands as equally, leaving them oily. This left us partially using up more product than we wanted to, it spread very easily. Again, towels are a must.
I have chronic abdominal pain from gastrointestinal disorders, endometriosis & PCOS. Rubbing a little on my front on the lower right part of my body didn't leave me with any immediate results. I find this creme advertised as a relief for a multitude of ailments, not so much feminine pains from PMS or obstetrics. Those interested in relief in relation to that- I would recommend seeking out Papa & Barkley's other product- the relief patch. I have a higher pain index because of my endo and often seek heavier products to help. Those with a lower THC & CBD tolerance may benefit more from this product application than I have or even by seeking out the patch for multi-hour relief.
The Potential to Lead an Industry
Papa & Barkley seemed to have appeared over night. I never saw a stage one of the product as we have seen with other ganjapreneurs. Regardless- this is an excellent product, regardless of it's origins. It has been featured in many places like the Weekend Box and Club M. We have received a sampling at the Latinos for Cannabis Tapas & Buds and during the Culinary and Cannabis 1 Year Anniversary Celebration. Papa & Barkley are a relatively popular entity in Southern California. From their presence at the Emerald Exchange to their set up at all of the dispensaries in Santa Ana- Papa & Barkley is looking to become a staple in the Cannabis industry, available for a large audience to enjoy.
Keep your eye out, excellent gift to share for the athlete or office worker in your life. Learn more here [x]