on Sunday, May 21 2017 @ 04:00 PM - 10:00 PM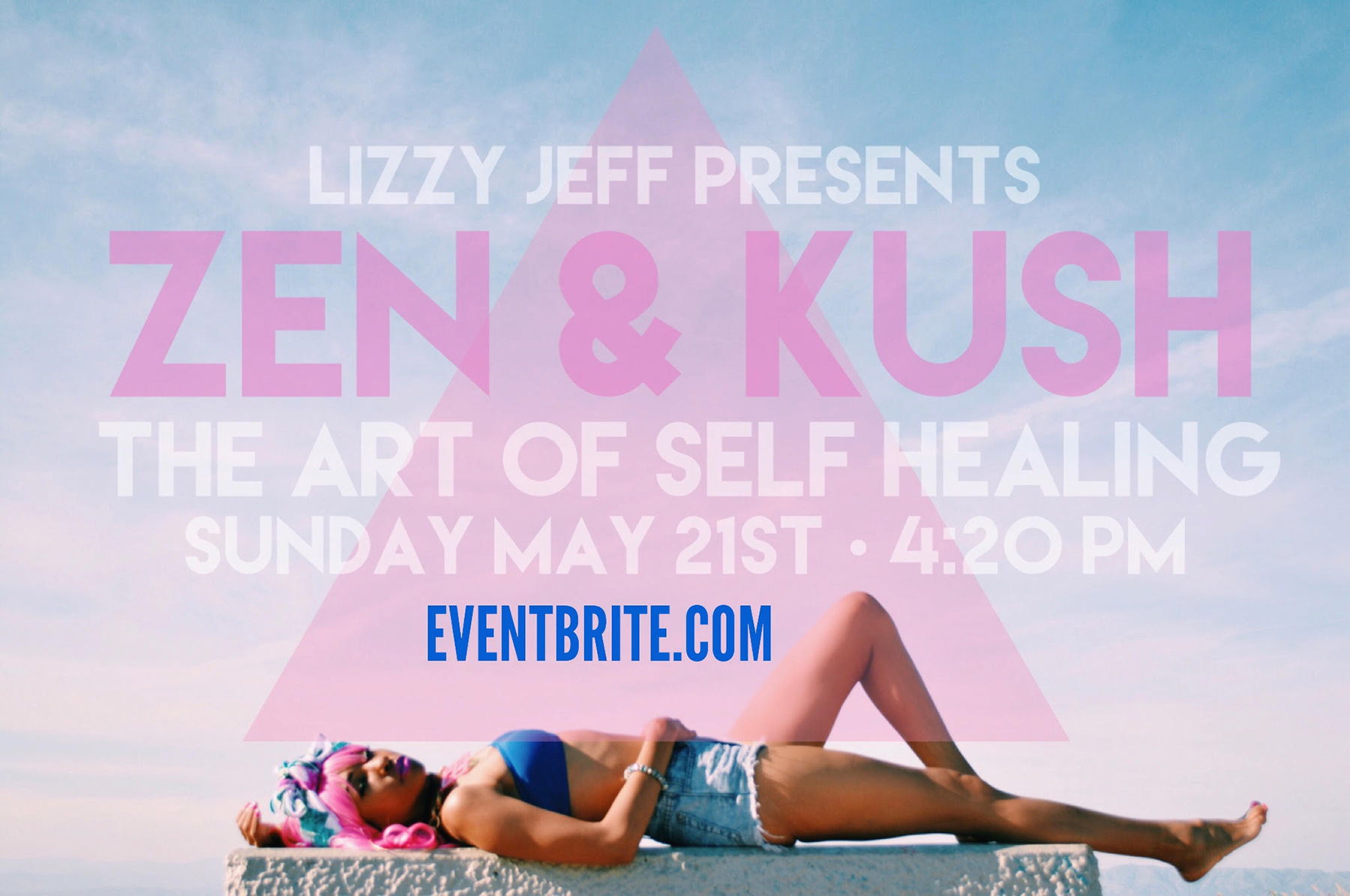 Zen & Kush, Summer Marketplace Edition, presented by Lizzy Jeff is an intimate event that will focus on the art of self healing through cannabis, music, community and self expression. There will be musical performances, goddess deck readings, live art, herbal consultations and all things magical. Come join Lizzy Jeff on a mystical ride as she guides you through different levels of consciousness and new ways to heal.Featured elements at the event:- Incredible networking with healers and creatives of all types. There will be leaders from many parts of the cannabis industry sharing knowledge and information on how to break into the industry.
Healing booths
Hotbox installation
Live art
Live dance
Deer Earth will be conducting consultations for those wanting to become more knowledgeable on the medicinal uses of different herbs. Learn new ways to connect with Mother Earth and experience her many treasures. There will be an Herbal infused tea bar as well
Organically grown strains will be featured
Organic infused juice bar by Blacktop
Lots of healthy, vegan friendly edible options will be provided throughout the evening
CBD water shots will be served
Experienced cannabis consultants will be providing information on the multiple ways to benefit from medical marijuana.
Kush Bar ( attendees will have the opportunity to sample and experiment with different strains)
Goddess deck readings
Laughter meditation sessions
The vibes will be all the way up as the eclectic line up of live musical performances lift you to higher realms of consciousness. Lizzy Jeff will perform live with violinist Tyler O. and saxophonist Rainbow Joe with a dreamy performance.
FEATURED BRANDS/ARTISTS:- ALPENGLOW FARMS
BLACKTOP ORGANIC JUICES
DEER EARTH HERBAL BLENDS
APOTHECANNA HEALTH & WELLNESS
THC HEALTHCARE VEGAN GRANOLA BARS
BETTY KHRONIC VEGAN EDIBLES
ART BY JAG ADORE
ART BY NNEKA GIGI
DANCE BY POLE PRIESTESS
DANCE BY NYX
…