on November 26th, 2016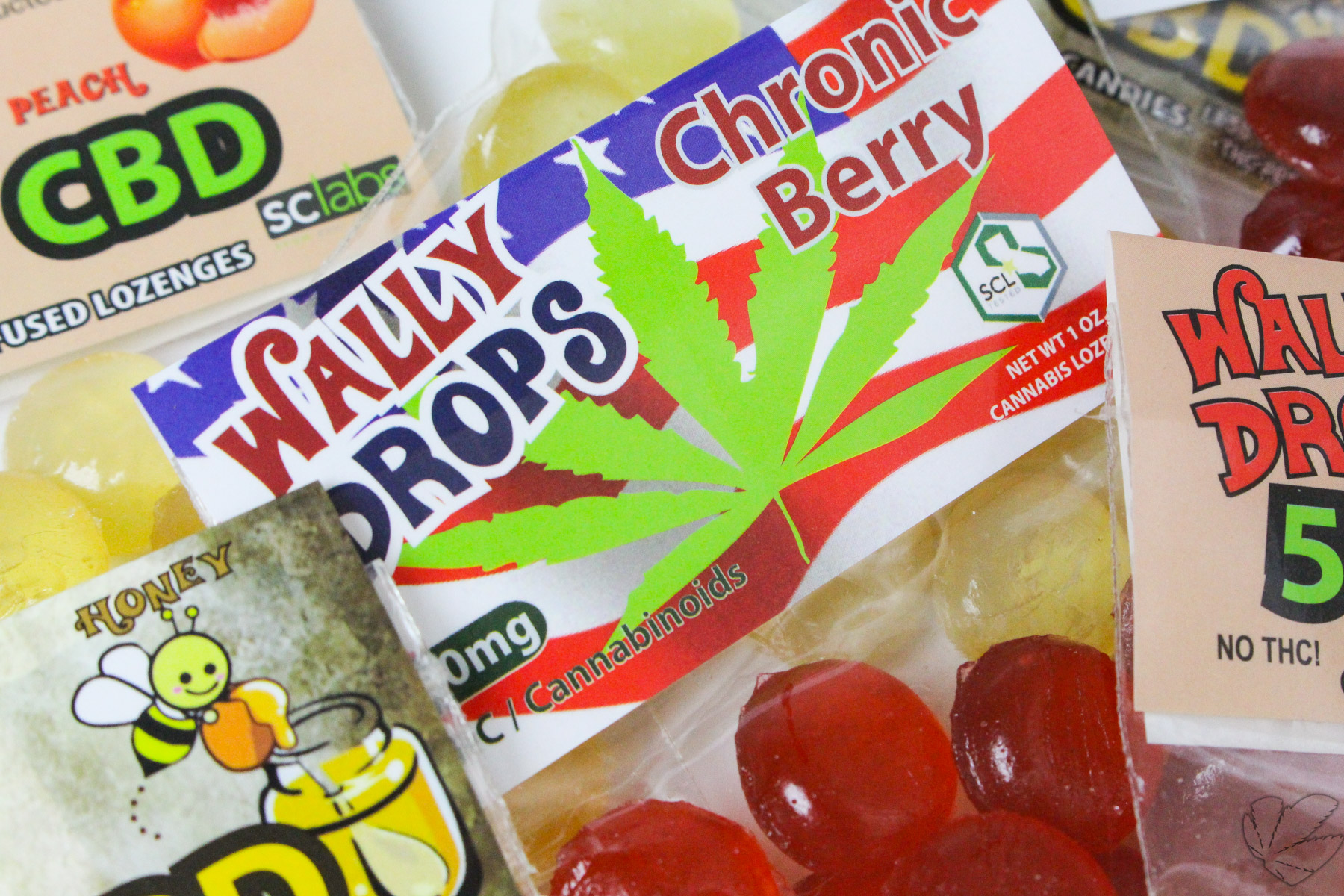 I'm always looking for the strongest edible. I have a high tolerance, and a lot of edibles don't even hit me unless I eat a bunch. That's why I was excited to try these 160mg Chronic Berry cannabis infused candies by Wally Drops. I ran into Wally himself at VendorSesh, a local cannabis event, and he challenged me to eat the entire bag on our livestream to see if it'd effect me. The following Sunday, I sucked down the entire bag over the course of an hour. By the end of it I was riding on a radiant stoned buzz while smirking and chuckling aplenty. It was a really comfortable high, even overwhelming at some peaks, but I definitely wasn't blown away like those "when the edibles hit" memes.
But let's rewind a bit and talk about the edible itself. Every candy is made from lab tested oils and then tested again after production, so you're ensured a clean and standardized product. The candy tasted pretty pleasing despite the high dose. The flavor of chronic berry was like a strawberry meeting another strong berry flavor, with some weed in the back end of the taste. The weed flavor was honestly difficult for me to pick past te berry, but it wasn't a grass like flavor of trim, you could tell it was concentrate made from oil. The candies themselves were fairly well dosed, on an average day I can eat 3-4 to give me a nice subtle buzz to accompany my smoking. It was nice too, each candy has a W embossed onto it.
The packaging was decent. They put them in plastic baggies (like a bigger dime bag), fold the top over, and glue the label on. This made it difficult to remove the label sometimes without breaking open the baggy. If you do open it correctly, the seal was a great addition that kept candies fresh.
The high was smooth enough to take any time during the day without fear of couch lock or cloudiness of the mind. The only problem I have is the format. With hard candies, you do technically get more higher off them because you're sucking on it and constantly exposing and absorbing cannabinoids through your tongue. But I'm personally more of a gummy style fan, where I can gobble them down effortlessly. Sucking down the entire bag took me an hour. For people who need higher doses, or just want to get super fucking high, it's really difficult to get these down fast enough. Chewing on them was difficult as well because they didn't crack in half like other hard candies do, they kinda stick to your teeth. But that's really a personal preference or a high tolerance issue.
Overall I really enjoyed these Wally Drops Chronic Berry 160mg candies. It was a fantastic energetic and creative high, and it tasted great. They make an excellent supplement to your stone throughout the day. While not the best edible for those with high tolerance or cavities, plenty of others will appreciate the dose and effect. The Wally Drops Chronic Berry 160mg candy gets a 7/10 in my book. It's a super solid edible, it just needs refinement in the candy texture and packaging.